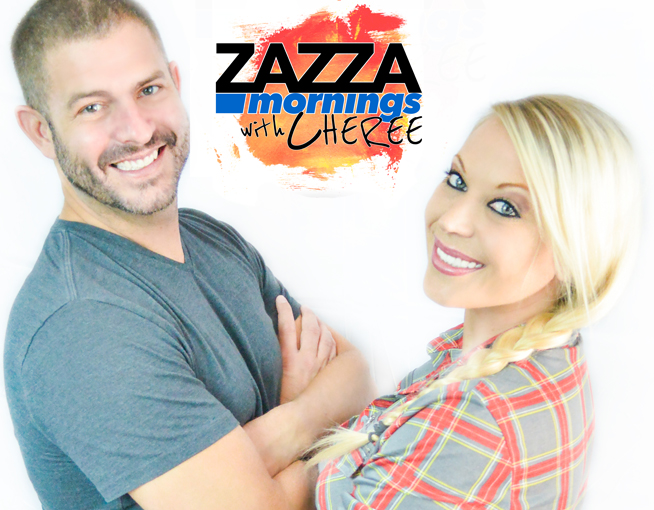 ---
             
---
NEW ZAZZA MORNINGS with CHEREE Blog is HERE!  We're just getting started, so be patient with us! 🙂
---
SHOW FEATURES
No More Than 4
Tony picks an person/place/thing and will give Cheree No More Than 4 clues to see if she can guess it within the four clues.  Sometimes she gets it right without using all four clues but most of the time she doesn't. Plus Tony posts bonus clue on the ZAZZA MORNINGS with CHEREE facebook page to help you out. Guess correctly and win the prize!
Ain't Nobody Got Time For That
Sometimes you just need to vent and let everyone know ain't nobody got time for that…whatever "that" may be at the moment. Call in each Monday to get if off your chest.
Fix It Or Ditch It
Got a relationship that needs some help? Or do you need to find out if you should just break it off altogether. Email ZazzaMorningsRadio@gmail.com your situation and of they select your email, they'll read it on the air and listeners will offer their best relationship-advice…for free!
Pie Face Thursday
Each Thursday, Tony & Cheree face off in the PieFace Showdown to see who has the fastest hands to make the other one get smacked in the face with whipped cream. Sometimes they get daring and use other "stuff" instead of whipped cream…then things get really interesting! Catch it live on the air, or on facebook live on the ZAZZA MORNINGS with CHEREE facebook page.
Foodie Friday
So we all know Tony loves to cook. Now he's cooking and videotaping it complete with detailed directions of how to make it look/taste the way Tony does.  It could be an elaborate holiday meal, or a quick romantic dinner for two, or the perfect meal for football season!  See the videos on the ZAZZA MORNINGS with CHEREE youtube page HERE!
---
TONY ZAZZA
Tony Zazza was born and raised in San Diego, CA & grew up dreaming of being a professional baseball player or a police officer. He left California for Texas on a baseball scholarship.
Tony attended Hill College & Tarleton State University in Texas where he got hired to write for MTV and also took a job at the local radio station in Stephenville.
Tony has worn every hat in radio until he asked for a 50 cent raise. When told he wasn't talented enough for the raise he decided to prove his boss wrong and in 1998, Tony drove to Dallas and landed weekends at KDMX. Tony worked his way up from weekends to overnights to nights and after one year he was onto afternoons. Tony spent 5 ½ years there before moving to mornings where he was the host of his own show for 4+ years before moving to KVIL.
Tony was named On-Air Personality of the Year by AWRT (American Women in Radio and Television) in 2007 and nominated again in 2014 and also nominated for On-Air Personality of the Year in 2004 by R&R (Radio and Records) and The RMA's (Radio Music Awards).
Tony is also the President of the Board for his namesake 501(c)(3) Non-Profit Organization which serves the community by targeting families, children and animals in need. www.ZazzaCommunity.org
He currently lives in "beachside" in Melbourne, Florida, with his 2 dogs (Cooper & Belle) and 2 cats (Faith & Hill). He loves to play golf, entertain, yard work, swim and spend time with family and friends.
Tony is a Wine Enthusiast and loves to cook.
---
CHEREE
Cheree is a 17-year radio veteran, and new mommy. She has spent her career working in just about every facet and format of the radio business. She's a multi Gracie award winning air talent who shines on-air as Co-Host for the syndicated Network show "Zazza Mornings with Cheree"
Additionally, Cheree hosts her own show on Westwood One's "Good Time Oldies" format 2p-10p six days a week and is a highly ranked voice-over talent for both Radio and Television. Cheree's voice can be heard in every City in America including New York City as she is the top female 'Voice-Over' choice for many ad agencies across the Country.
Aside from work, Cheree enjoys being a first-time mom to her daughter Haylee, and is happily married to her Husband Michael. Cheree is a huge animal lover and donates her free time to the ASPCA hosting many of their events. She is also a competitive figure skater. Her greatest loves in life are family, wine, music and sleep! Cheree's all-time favorite male singer is Freddie Mercury from Queen. Her all-time favorite female singer and human (aside from her daughter) is Alanis Morrissette.
Cheree loves life and is overly obsessed with the Green Bay Packers!