The 36th annual Space Coast State Fair, Brevard's largest and most popular annual family event, is set for November 4-20 at Space Coast Daily Park in Viera.
The fair offers a tremendous Pay-One-Price value every day and night – pay just $25 (Tuesdays – Thursdays) or $30 (Fridays, Saturdays and Sundays) at the gate and all unlimited rides and shows are included from open to close.
Loved by thousands of Central Floridians, come, and see why the Space Coast State Fair is a must-see tradition on Florida's Space Coast.
Tickets are on sale at SpaceCoastStateFair.com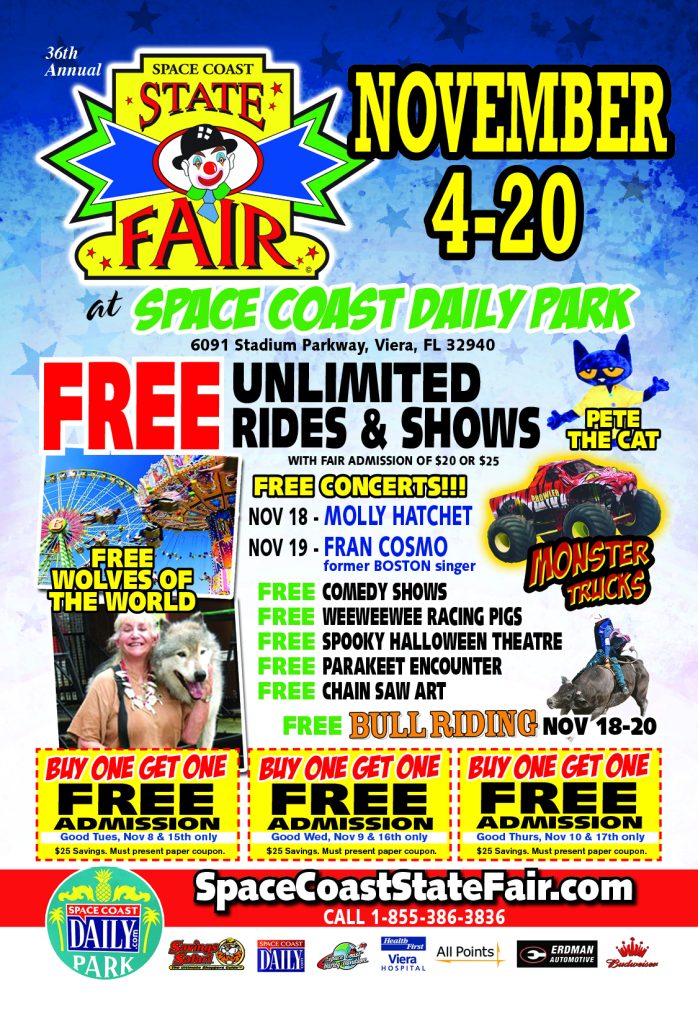 FAIR ATTRACTIONS
Learn how to milk a cow at Cow Town USA
Weeweewee Racing Pigs
Daniel Jude in concert
The Wolves of the World
Weeweewee Racing Pigs
Monster Truck Madness with Mike Cole and his car crushing monsters
Queen B's Spooky Halloween Circus Theater
Molly Hatchet in Concert November 18th
Fran Cosmo in Concert November 19th
Bull Riding Extravaganza November 18-20