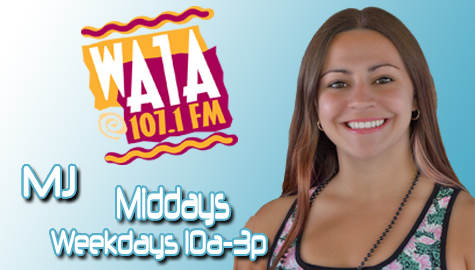 MIDDAYS with MJ
Born in New Jersey, MJ has called the Space Coast home since the age of 5 (shout out to T.H.S. Terriers!)
After graduating from Connecticut School of Broadcasting in Orlando for Television and Radio, MJ joined the staff at 107.1 A1A.
She loves music of all kinds and her playlists bounce from pop, dance, 90s, 2000s to EDM, hip hop and rock…just no country please.  Her lyp sync go-to songs include "Barbie Girl", "I Want It That Way" and "Hotline Bling."
MJ's favorite hobbies include 'glue-sticks & glitter,' some free time, and lots of creativity.  Plus, as a "Florida Girl" she spends time at the beach with friends and family.
She's a big basketball fan (GO MAGIC!), loves movies (Johnny Depp + Tim Burton = YES PLEASE!), and always discovering new restaurants up and down Brevard County (i.e. MJ loves to eat).
MJ can always be found at a concert from Daytona, Orlando and South Florida.
---
PLUS MJ's BACK IN THE DAY BUFFET airs every weekday 12 noon to 1 pm playing all  your requested favorites from the 90s, 2000s & More!
Call MJ with your request at 321.984.1071